Carrie Cash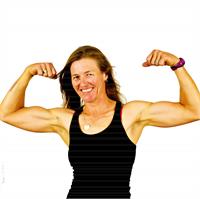 Carrie Cash has been a vital member of the cycling community for over a decade. She rides all around--often with her little Chihuahua (Javi) riding along in her backpack. From hitting the mountain bike trails to pushing it on a group road ride. Carrie seems to always have those legs spinning. Recently she received her IMBA (international Mountain Biking Association) Certification as a Level 1 guide/instructor. She also coaches new and experienced riders.
Carrie is incredibly passionate about the cycling community, she was even a co-founder of Team Revolution, an all levels women's cycling team. She is excited to be a part of the Steel Wheels Family--she loves introducing people to the joys of riding. On and off the bike, indoors and outdoors, you'll feel some of her contagious energy when you are around her. And in class, she'll push you to do your best--every time!
Carrie Cash instructs the following:
Interval cycling to the music that brings us back to 2016!




Interval cycling to music that will make you "light" up your watts!




This 2017 year in review contains a good amount of climbing, which is relatively moderate until the final steep hill. Occasional sprints are done at a light to moderate resistance, but for longer periods of time.




Riding through the mountains of Arizona, Sedona and the Grand Canyon to some amazing 2002 music. Think Brittany, Justin and Daft Punk!




Wind through the mountains of Southern France and along the famous "Grande Corniche" high above France's picturesque Cote du Azure. Plenty of challenging climbs but worth it for the scenery!