Claire Reinbold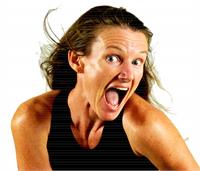 Claire has been an avid cyclist for several years, but it all started because of indoor spin classes. She Connected with her inner-cyclist and hasn't looked back since. If there is a long distance charity event, she is likely to sign up and use those two wheels to make a difference. She loves the cycling community that forms both inside and outside. Claire has been teaching cycling classes for several years and loves seeing people realize how strong and powerful they can be. She firmly believes that bikes can take you places-in more ways than one!
Claire Reinbold instructs the following:
Some challenging climbs, particularly in the second half. What do you expect, it's the Alps!




Interval cycling to music that will make you "light" up your watts!




Won't stop....Can't stop dancing! This ride will keep you pedaling, featuring music that keeps you going, like: J.T., Daft Punk and much more!




Riding through the mountains of Arizona, Sedona and the Grand Canyon to some amazing 2002 music. Think Brittany, Justin and Daft Punk!




Wind around Oceanside cliffs on the most breathtaking road in the universe: The Pacific Coast Highway, Emphasis on hills with some sprint work mixed in.