Kelly Mindel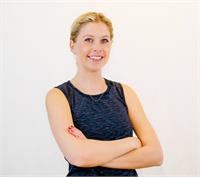 Kelly is so excited to be on the Steel Wheels Team! She works in IT sales during the day, but cannot wait to share another passion with the clients of Steel Wheels after her 9 to 5. She plans an international trip every year, enjoys everything in Forest Park, and spends way too much time at the movies. She is a resident of Brentwood, but cannot wait to spend a little time in the Central West End.
Kelly Mindel instructs the following:
Northern California Ride! This ride winds along the upper peninsula just across the Golden Gate bridge, starting in Marin Headlands and winding up along Highway 1, before making our way back down to the base of the
bridge.




Showcasing the most beautiful regions of South Africa, this ride takes you on a safari through Kruger National Park, before heading down south along gorgeous Capetown coastline, as well as into the Stellenbosch wine country. Music features popular South African bands, as well as Africa-inspired music like Paul Simon's Graceland.




We start off in the brilliant green fields of Tuscany, making our way to Florence where we climb up to the famous Piazza Michelangelo, then head over to the pristine Ligurian coast, then travel south along the treacherous cliffside roads of Amalfi, before screaming past the ancient ruins of Rome. The best of Italy in 45 minutes!