Virginia Green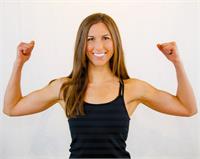 Virginia is NASM Certified Personal Trainer and Precision Nutrition Coach with a passion to inspire others to become the best and healthiest versions of themselves. Virginia is an avid swimmer and lover of all things water, beach and outdoor-related. What she enjoys most about her preferred cardio activities, cycling and swimming, are the sensory stimulation, mind-body connection and endorphin/energy boost attained.
Virginia, AKA "Miss Green", with her recycling and "green" habits, also loves to cook with her Italian Mama and travels as much as possible. She has a healthy obsession with yoga pants, bananas, peanut butter, dark chocolate and her furry Golden-doodle, Teddy. She's a native of St. Louis, but hates the cold and hopes to one day live by the beach.
Virginia Green instructs the following:
Interval cycling to music that will make you "light" up your watts!




Riding through the mountains of Arizona, Sedona and the Grand Canyon to some amazing 2002 music. Think Brittany, Justin and Daft Punk!




From the West Coast through the Midwest Heartland to the East Coast and back again, this ride features a variety of American landscapes. The music mixes contemporary hits with some surprising oldies, but goodies. Lots of scenic rolling hills and a few tough sprints.