Virginia Green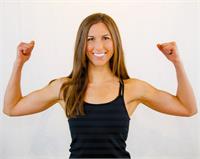 Virginia is NASM Certified Personal Trainer and Precision Nutrition Coach with a passion to inspire others to become the best and healthiest versions of themselves. Virginia is an avid swimmer and lover of all things water, beach and outdoor-related. What she enjoys most about her preferred cardio activities, cycling and swimming, are the sensory stimulation, mind-body connection and endorphin/energy boost attained.
Virginia, AKA "Miss Green", with her recycling and "green" habits, also loves to cook with her Italian Mama and travels as much as possible. She has a healthy obsession with yoga pants, bananas, peanut butter, dark chocolate and her furry Golden-doodle, Teddy. She's a native of St. Louis, but hates the cold and hopes to one day live by the beach.
Virginia Green instructs the following:
Northern California Ride! This ride winds along the upper peninsula just across the Golden Gate bridge, starting in Marin Headlands and winding up along Highway 1, before making our way back down to the base of the
bridge.




We start off in the brilliant green fields of Tuscany, making our way to Florence where we climb up to the famous Piazza Michelangelo, then head over to the pristine Ligurian coast, then travel south along the treacherous cliffside roads of Amalfi, before screaming past the ancient ruins of Rome. The best of Italy in 45 minutes!