Graziella Amarasinghe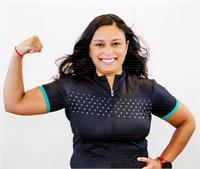 I love cycling... everything about going places on two wheels brings me joy. I've been riding outdoors since I was 3, and used my bike to commute during graduate school here in St. Louis. When I got into Triathlons, I took indoor cycling classes to stay consistent over the winter months and really enjoyed the comrade of the class participants and the interaction with the instructor teaching. It motivated me to get certified and I taught Y-cycle at my local YMCA for 3 years. I am stoked about this opportunity to be a guide for Steel Wheels and I can't wait to embark on this journey with my class.
When I am free, I am dreaming of blue skies and mapping out my next outdoor ride. I love supporting my local bike shops like The Hub and Big Shark. My favorite music group is and always will be Bon Jovi! I am a dog lover and a huge fan of Stray Rescue.
Graziella Amarasinghe instructs the following:
Some challenging climbs, particularly in the second half. What do you expect, it's the Alps!




Northern California Ride! This ride winds along the upper peninsula just across the Golden Gate bridge, starting in Marin Headlands and winding up along Highway 1, before making our way back down to the base of the
bridge.




Won't stop....Can't stop dancing! This ride will keep you pedaling, featuring music that keeps you going, like: J.T., Daft Punk and much more!




We start off in the brilliant green fields of Tuscany, making our way to Florence where we climb up to the famous Piazza Michelangelo, then head over to the pristine Ligurian coast, then travel south along the treacherous cliffside roads of Amalfi, before screaming past the ancient ruins of Rome. The best of Italy in 45 minutes!




Wind around Oceanside cliffs on the most breathtaking road in the universe: The Pacific Coast Highway, Emphasis on hills with some sprint work mixed in.